advancis announced today the launch of the next-generation digital brochures. The new brochures feature enhanced functionality that take full advantage of recent advances in Internet technologies.
The most notable new features include:
1) Ability to virtually turn brochure pages using the computer mouse. Complex algorithms make it possible to achieve a life-like effect that creates a spectacular and unique experience for the reader. The fluid motion produces an amazing visual experience that surpasses reading and handling paper brochures or magazines.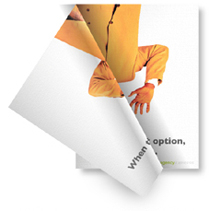 Users are more involved; on-screen reading is more natural.
2) Option to include streaming video perfectly synchronized with the brochure content. The combination of visual, audio, text, and interactive elements within a single document dramatically enhances the impact and selling power of the digital brochures. Personalized demos, captivating presentations, and high-quality videos can be included without increasing the brochure file size.
3) More extensive printing capabilities that give readers the ability to go beyond printing screen-optimized versions of the collateral to printing versions of the brochure that are optimized for their printer settings. This OnDemand printing feature is at the heart of the huge savings enjoyed by companies that have added digital brochures to their portfolio. Readers print what they need when they need it using their own equipment.
4) MAC versions are now compatible with MAC OS X. WINDOWS versions are compatible with WIN98 or later.
As with previous versions, the digital brochures can be self-contained or web-based, delivered on a CD or incorporated in a web page. The brochures are available in more than a dozen languages and will be offered through the advancis advertising agency network.
About the advancis advertising agency network
advancis.agency, agence.advancis, agenzia.advancis and advancis.agentur are part of the advancis network of advertising agencies which spans Germany, France, Italy , the UK and the US. Since 1999, advancis has made its mark by helping large companies and companies with premium brands achieve above-average results on the Web without putting their brands and eBrands at risk.

Note to editors
For further information, contact the advancis marketing department at:
(EU) +33(0)4 93 18 49 25
(US) 001 214-766-4854
or online at http://advancis.com/Digital_brochure/