09/04/07 - Dallas, Texas, USA - advancis announced today the introduction of a new agenda builder component for trade show and conference digital brochures and eBrochures.
Developed specifically for trade show and conference organizers, the agenda Builder component allows attendees to compose their own agenda and export it to Outlook or iCal and even synch it to their mobile phones, iPhones, iPods, PDAs or laptops so they can take it to the show with them.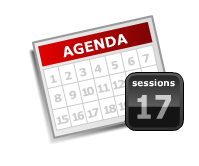 Attendees can directly interact with the seminar or course content displayed in the pages of your brochure. No need to go to a special database or application. They read, choose, and manage their schedule directly inside the brochure as they look at the pages. When ready, they can print the agenda or export it with just one click.

Already in use by some of the largest shows in the country, the agenda builder component makes online brochures more valuable to trade show audiences than the paper version, allowing organizers to realize the savings you expect from digital publications.
Stated Claudie Clot, CEO of advancis.com, "the agenda Builder component dramatically enhances the usefulness of online trade show digital brochures because its addition results in tremendous benefits for the trade show organizer as the component simplifies the registration process for both the organizer and the attendees."
The component is exclusive to advancis. Patent-pending.
Availability | The new digital brochure component is offered via advancis.com and the advancis advertising agency network. advancis.agency, agence.advancis, agenzia.advancis and advancis.agentur are part of the advancis network of advertising agencies which spans Germany, France, Italy , the UK and the US. Since 1999, advancis has made its mark by helping large companies and companies with premium brands achieve above-average results on the Web without putting their brands and eBrands at risk.

Note to editors
For further information, contact the advancis marketing department at:
(US)
(EU)

or online at http://advancis.com/Digital_brochure/